Hi there Scrappers,
We have an extra special new release this month. We have designed a box to hold either your paper stash or your AltaMATZ!!! It is made from 3mm MDF and also comes with a storage tray on the top for your tools or bits and pieces.
Here is Kerryn's example.
Kerryn decided to assemble her box before decorating, knowing that she was going to cover it with paper. She has used pages from an old novel, tearing the pages into smaller pieces and sticking them to the box using Mod Podge. Once the box had dried she inked the edges with black Distress Ink.
The top tray was just perfect for storing her mists.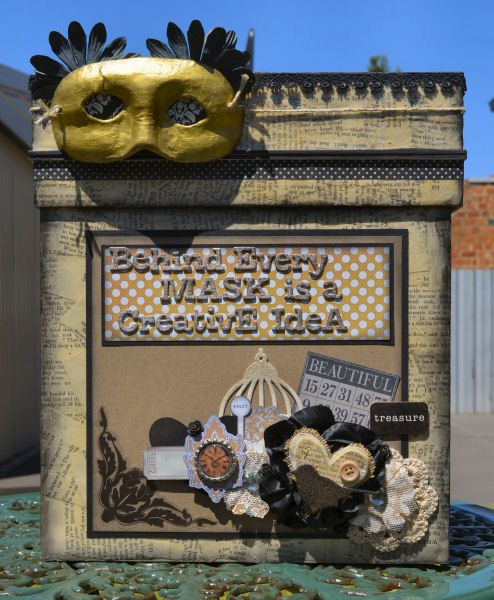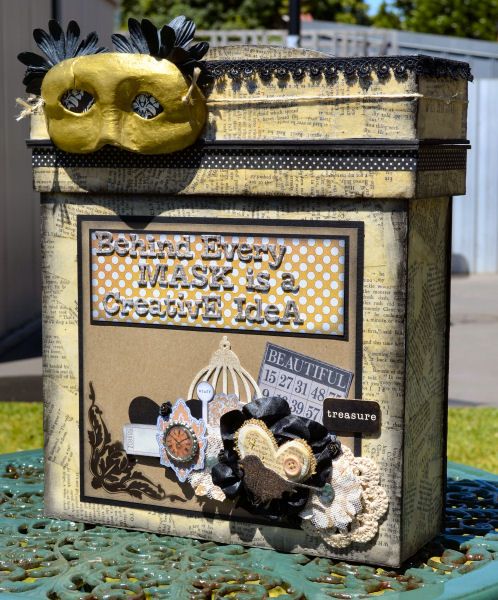 Kellie
is also sharing her Altamatz stotage box.
Are you looking for a new storage idea? These boxes would be perfect to store any of your 12 x 12 pieces- whether it be patterned paper, cardstock, masks etc.
It is a handle on top which makes it easily transportable, and there is a shelf on top where you could store your tapes, pens etc.
Here is mine........
And like I said, great storage in the top....
Monique was amazed at how easy they are to put together, and the tray on the top is perfect for storing mists and other bits and pieces. She has all of her pre-purchased store kits in it, so when she goes to a crop, all she has to do is throw in some mists, tape etc in the top and she is set to go!
This is what Monique's looks like:
Monique painted hers before she glued it all together - in black, then used some coordinating papers and embellishments to decorate it to her liking. All she used was some Helmer glue, everything fits together so easily - it took so little time to put together! I LOVE this product - and I'm sure you will too!
Now here is Sandra's example which she has sprayed with silver spray paint after she assembled it. She then added a spray of black webbing spray. The two tops are sprayed with black matt spray. The flower is a Bella! large flower with a WOW new release MDF owl on top. She has then wrapped some black string around it.
Sandra says the box is a great carry and storage for your AltaMATZ and templates. Sandra's is on the shelf in her scraproom and her matz are all safe and straight inside.
This item will be listed on the website shortly!
Hope you all like our latest release!!!
Suzanne