On the 11th of May, my parents celebrated their Golden Wedding Anniversary.
At some stage during April, we came up with a brilliant idea of putting together an album to capture some of the great memories of their time together. It was an awesome team effort with my big sister, one of our Aunty's (Mum's sister) and of course me. The hardest parts of this adventure? I was the only scrapper and we were pushed for time, but it is amazing what you can achieve when needed.
The other star of this project was, of course, Suzanne and
WOW
chipboard. She supplied all of the chipboard pieces for the entire album, many pieces were custom cut and then she rushed the order to give us plenty of time. I can not thank her enough!
So, over the course of this week, I will start to share the album with you, with a few other projects thrown in to break things up.
The golden box that holds the album was found at my local News Agent, it was decorated with flowers, papers, gems, ribbon and the
50th Anniversary
title. The title was covered with Brilliance gold ink and then coated with a layer of gold stickles.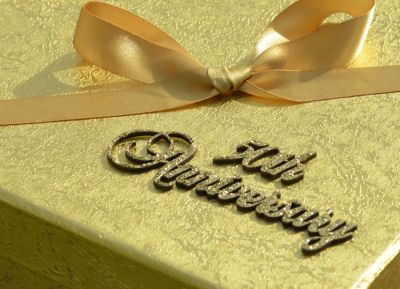 I used an American Craft D-ring album that I have covered the outside of the album with patterned paper, stickers and chipboard. The insides of the album were painted with gold paint. The front cover features another
50th Anniversary
title, with only the 50th covered with stickles and a gorgeous butterfly from the
Butterfly Elements
pack. I have protected the entire album with a few coats of matte Mod Podge.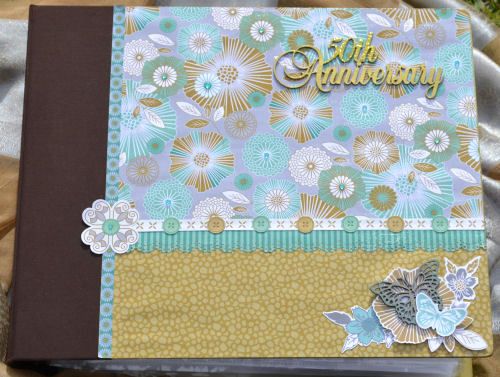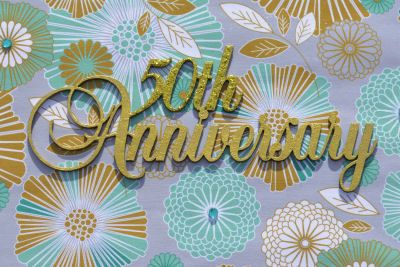 The butterfly was covered with silver and turquoise ink, starting with silver in the centre and blending out to the edge of the wings with the turquoise. Once dry the butterfly was coated with Crackle Accents.
The first page was used as a title page, it features a custom piece of WOW chipboard, Celebrating your 50th Wedding Anniversary. This title was covered with gold paint and layer of glitter Mod Podge.
That's all for today :) Hope you have enjoyed the album so far.
Tomorrow I will share their church and wedding photos along with their first born.
Thank you for visiting the blog.