Today is the final post for my DT week here on
WOW
blog.
I hope you have enjoyed it and have taken away a few ideas to try yourself when grabbing that next piece of chipboard.
I thought I would wrap up my week with 2 simple techniques I like to use to decorate chipboard, nice and easy with very little mess. Now that doesn't happen very often.
The first page is my son checking out the view from the Adelaide Showground ferris wheel.
He gets really nervous when the ride first starts, I don't think he likes the going down part, but once we get to stop at the top and he can enjoy the fabulous view, he usually comes around.
I pulled out a pair of brackets from the
WOW
Bracket set
when I started the page. I had decided to use them to create a frame around the smaller photos to highlight the view that we could see.
They were inked with pinecone ink first, but they didn't really stand out on the page that much.
So I grabbed a small texture stamp and some Gold Brilliance Ink and lightly stamped each bracket.
It made a great difference to the page and added some highlights to the chipboard pieces.
The best thing was, it was done in seconds.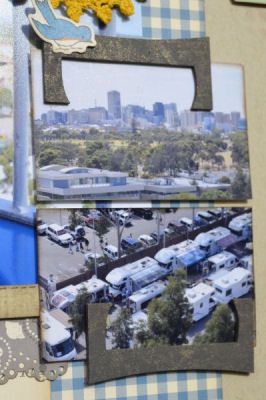 Taking in the view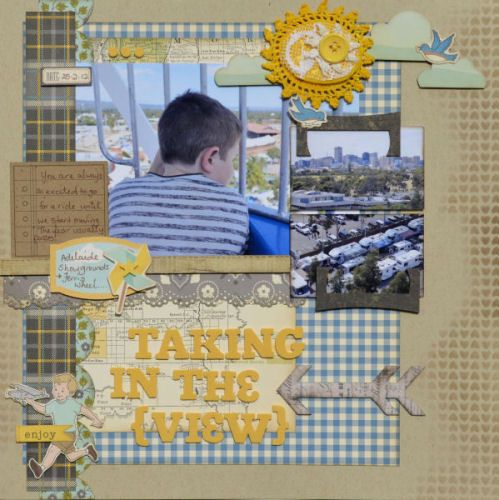 The next page is about a funny incident that I captured while the boys were having a kick of the soccer ball outside. I was taking a few snaps when I suddenly realised the ball was coming straight for me.
The page features more texture stamping and then I have also added the simple touch of using Liquid Pearls to decorate the chipboard. I have used
Classic Alphabet in uppercase
to put together my two part title.
The first part has been covered with black ink and then decorated with red Liquid Pearls.
Simple small dots added to each letter.
Part two has been inked with Red Brilliance Ink, stamped with black ink and a checker plate texture stamp and then finished off with some Glossy Accents.
Goalie practice gone crazy
Well that's it from me for now, thanks for visiting the blog and stay tuned for tomorrow when the February New Releases will be revealed right
here
. The design team will have more to show you on their blogs.
You can check mine out
here
.