Welcome to the WOW blog today.
It's Kerryn here and I'm back to share another layout featuring the awesome August New Releases. Plus I have a page to show you with product from the July new releases.
First up is the chipboard Mini Background Panel, which is also available in 6x6 & 12x12. I have used it as a matte for the journal card and have covered it simply with black ink.
You can never go wrong with white on black I say!
The second product is the light wood veneer Oval Star Frame, seriously how cool are these!!
I have left most of it raw, but added some simple colour to the star with a blue gel pen.
Frames the boy beautifully.
The final product is from the July new releases and it's something every scrapper should have in their stash, a sheet of chipboard Ampersands , inked black and then outlined with the same blue gel pen
& We're Racing
Our boy enjoying a recent Scalextric adventure with his friends
The next page was featured on the Stuck?! Blog as my DT sample for the August 1st sketch.
Showing off the fabulous 6 inch Mesh Border, I have just inked the outer parts of the chipboard with Pinecone Ink
Another of Tarrah's chipboard titles So awesome I have used as a sub-title, It was covered with white ink as a base, while the ink was still wet I have added touches of different Distress Inks and then applied the Gloosy Accents. Love the movement in the colours and the grungy finish.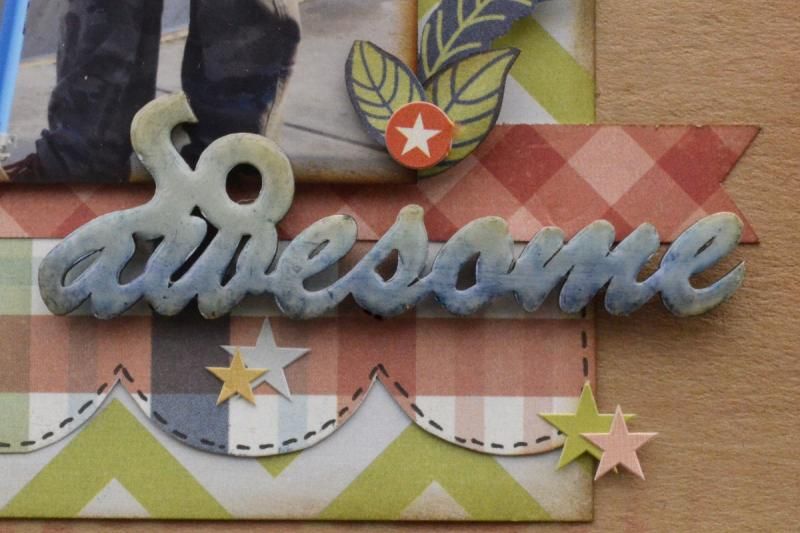 You can also see in the main photo the Flower stem pack which I have inked green to blend in with the cluster on the left of the page
Let's go play
Harrison just loving his scooter at the moment and going to skate parks.
Thanks for dropping by today, hope you all have a very creative weekend.