Hello, Hello!
Getting the hang of things now.
Now what do I have to show you today? Oh I remember, my nephew is back and this time he has his beautiful daughter with him.
Before proceeding, I must warn you that some chipboard may have been harmed in the production of this page. It was done as humanly as possible (mwahahaha)
Lets get the tortured piece of chipboard out in the open first. The title
'Who could resist that SMILE'
(C1216) has been cut so the word SMILE could stand alone. The chipboard was inked with Pinecone Versa Ink and then swiped and stamped using Ice Jade chalk ink
The next chipboard piece, the
Filigree Butterfly
(C480) was inked using the different colours to co-ordinate with the papers I have used. To finish it off, I have applied the Ranger Crackle Accent. Love this stuff! It is one stop easy crackling and glossy, just takes awhile to set and crackle.
Who could resist that SMILE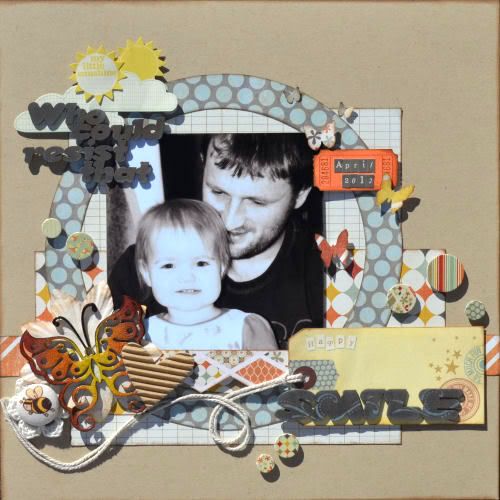 Have a fabulous day, see you on Friday
Kerryn xx