Good Morning Crafters, welcome to the WOW blog today.
It's
Kerryn
here and it's my turn to host the blog :)
I will be sharing a variety of WOW projects with you this week that I hope you will find enjoyable and inspiring all at the same time. Please feel free to drop by regularly to see what is going on.
Today I have scrapped a 12x12 page using some older photos of my son.
From memory, the photos were taken in the loungeroom of our other home in 2005.
The first chipboard piece used on the page is the
Tree Branch
C954. I have used 3 different layers on the branch to bring it to life. The No.1 layer or base of the chipboard is a good coat of Versa Colour Pinecone Ink. Once dry I have gathered a script stamp and a few different metallic inks and randomly stamped the image on parts on the branch. It will seem a little subtle to start with, but don't over stamp the chipboard. Once you add the final layer of Glossy Accents, the stamping will becomes more visible and give the chipboard some beautiful highlights. Definitely a favourite technique of mine.
The next pieces are 2 Geometric Photo Corners that I have used to frame the cutest photo of the four. I have used the same technique as the branch, but stamped mainly using gold. The Glossy Accent just finishes it off.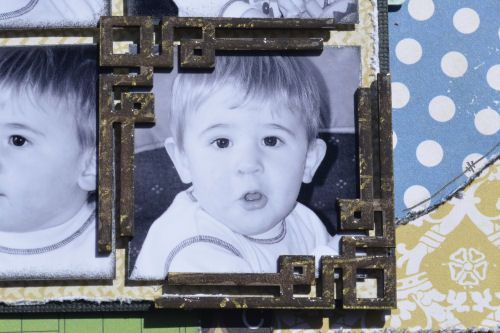 Here is the finished page, I can't believe how small my little man looks.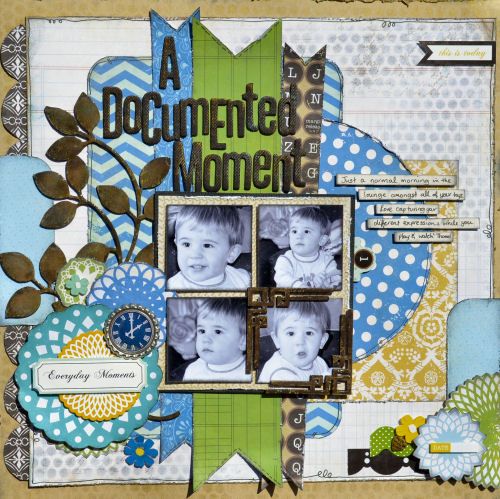 Thanks for visiting today and just a reminder the WOW Monthly Challenge finishes at Midnight tonight.
Here is the sketch:
So there is still time to complete the sketch and post on
our Facebook page
or email it to:
suzannewebster@exemail.com.au
.